ACT News
Ken Behrens gives OzHarvest an unexpected boost!
by OzAdmin
ACT News
Ken Behrens gives OzHarvest an unexpected boost!
by OzAdmin
What started as a captioning glitch during an ACT Government press conference, quickly became the focus of a wave of Canberra pride, and some unexpected fundraising for OzHarvest!
During one of Canberra's daily press conferences in August, ACT Chief Minister Andrew Barr said, "I want to thank all Canberrans for doing the right thing." However, the video caption read "I want to thank Ken Behrens for doing the right thing" causing an internet sensation!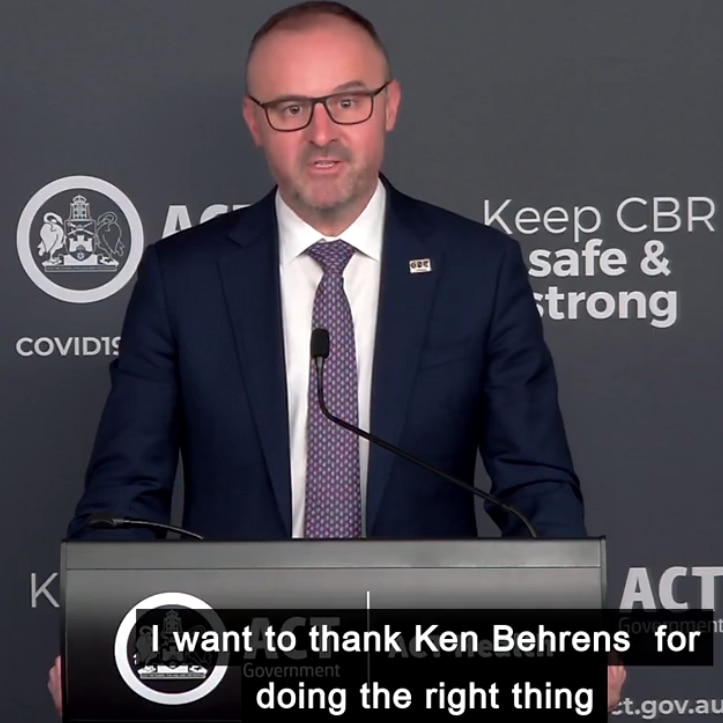 Zoe Rose, a Canberra local, seized the opportunity to have a little fun by uploading a simple 'We are all Ken Behrens' design to Redbubble, an online platform which allows people to create their own merchandise. The design was printed on t-shirts, hoodies, notebooks, masks and more, with all profits going directly to support OzHarvest.
"Honestly, I just thought it was funny! I thought my Dad might buy a t-shirt, but I really didn't expect to sell more than a couple of items," she said.
This spontaneous idea has now raised almost $6,000, allowing OzHarvest to deliver 12,000 meals and with more sales rolling in, that number continues to grow.
Belinda Barnier, OzHarvest ACT State Manager, said that during such a challenging time, Zoe's message was just what the Canberra community needed. "Right now, more people than ever are experiencing food insecurity, many for the first time in their lives. Zoe's Ken Behrens merch is such a joyous initiative! I remember seeing one of her first tweets about the products, which said, 'I am Ken Behren. You are Ken Behren. We are all Ken Behrens.' I love that! We are all in this together, and this initiative has really shown that."
Zoe said the fundraising was the added bonus, "I didn't expect to have been able to give this much to OzHarvest, but I'm so happy that I can! I only wish that Redbubble sold little dog jackets so I could get one for my furry friend!"
For your own Ken Behrens merch, head to Redbubble and help support OzHarvest.